The Vineyard & Farmhouse Tasting Room
Wine flight tastings, wines by the glass and bottle sales available
Cheese plates, hummus & veggie plates, and vegan plates available
Curbside pickup available
---
Ten Reasons to Visit
1. Located half-way between Seattle and Walla Walla
The Tasting Room at Wilridge Vineyard is the closest Eastern Washington vineyard tasting room to Seattle -- just a little over two hours away -- and only minutes from Yakima. Wilridge Vineyard can easily be the first stop on your Eastern Washington wine tasting adventure and must absolutely be your last stop on the way back to Western Washington.
2. Commune with Nature (or not)
Enjoy a glass of wine and watch for the raptors flying overhead, quail meandering on the lawn, squirrels running here and there. Then if you get up and move around a bit you might see Marmots hunting for food on the bluffs, Bees pollinating, butterflys flying and praying mantis hoping for the best in the vegetable garden. I could go on but I think you get the picture. Just relax or move around but most of all enjoy your wine tasting experience at Wilridge Vineyard.
3. Quite Evenings and Epic Sunsets
The Vineyard is the perfect setting to share a bottle of wine on a warm summer night. During the Autumn months, the fire pit is lit at dusk, and the smell of hot spiced wine is in the air. Summer, Spring, Winter or Fall, every season is the perfect time to visit Wilridge Estate Vineyard.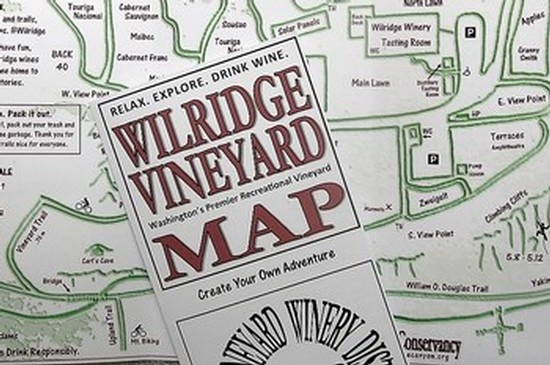 4. D.I.Y. Adventures around the Vineyard
Get your copy of the Wilridge Vineyard Map and use it as your guide to walk and wonder through the vineyard paths, maybe hike over to the Winery and Distillery, find your way to the cliff trails along the Cowiche Canyon, visit the scenic view points and scout for Marmots -- always a delight to see. Create Your Own Adventure.
5. Wine Bar and Tasting Room
The Vineyard's Wine Bar and Tasting Room offers all of the Wilridge Estate and Varietal red, white, rosé and dessert wines. Not a wine person? That's okay, the Tasting Room also carries Meads from Sky River Mead in Woodinville, Ciders from Tieton Cider Works, Micro-brew from local craft breweries. And, the entire line of Wilridge brandies and grappas (yum). The wine bar has a great Flight Menu for sampling a tasteful selection of Wilridge wines -- all wines are available by the glass or bottle.
Light bites and soft drinks are also available.
Please drink responsibly.
6. 1900s Era Wraparound Farmhouse Porch
Relax in the shade and the cool breezes sitting on the porch of our 1900's farmhouse. From the porch you'll have amazing views of Cowiche Canyon, Mount Adams, the upper Yakima Valley and Wilridge Vineyard.
7. Big Comfortable Lawns with Picnic Tables
Pack a picnic lunch, choose your favorite Wilridge wine from our wide selection and spend the afternoon relaxing at the vineyard. Picnic tables are scattered about and you can always lay a blanket out on the lawn, or sit in the shade of the grape vines and fruit trees.
8. Live Music and Popular Food Trucks (Spring/Summer May - September)
A variety of ever-changing Food Trucks and Musical Artists are a great way to wrap up a long day of whatever you've been up to. Join us for a mellow Wednesday evening away from all the noise.
Wine Down Wednesdays - doors open at 4p, Live music 5:30-8:30 PM May through August
9. Rock Climbing and Rappelling From Cliffs
Grab your harness and come rock climbing! A long section of Andesite rock cliffs on the south side of Wilridge Vineyard host bolted anchors with top rope climbing opportunities ranging from 5.8 - 5.12. We recommend delaying the wine and spirit consumption part of your visit until after climbing.
10. Wilridge Winery Wine Making Crew Community Volunteer Program
Be a part of the BOTTLING & CRUSH CREW, a Community Volunteer Wine Making Program at Wilridge Vineyard. Smaller boutique wineries and distilleries in Washington, like Wilridge, rely on the volunteer support of like-minded individuals who want to play a role in, and be a part of, the Yakima Wine Country Experience. Find out more about volunteering.
Thursday:
4-7 PM
Friday & Saturday:
12-6 PM
Sunday:
12-5 PM
Text/Call
509-966-0686

Info@WilridgeWinery.com
Reservations are not required.
---

Scheduling Events at the Tasting Room
Special event venue for up to 50 guests, hourly rental plus minimum food and wine purchase required.
Wilridge Private Wine Tasting Experience
Two hours of drinking wines and socializing with up to 8 friends.

Call (509) 966-0686 ext. 2 for details or to schedule your private reception or seasonal holiday event.
You know you want to
Sign Up For Our Newsletter
Keep up to date on the latest wine releases, events, and promotions