History
Wilridge is a small family vineyard, orchard, winery and distillery operated in the European tradition. Founded in 1988, Wilridge is the oldest winery in Seattle. In 2007, Wilridge planted its certified Organic and Biodynamic Estate Vineyard on Naches Heights near Yakima, Washington. Wilridge continues to produce award-winning wines. In 2017 Wilridge launched its artisan brandy distillery using grapes, apples and pears from the Wilridge Estate on Naches Heights. Wilridge vineyard is one of the most popular off-the-beaten-path vineyard and wine bar destinations in Yakima's Wine Country.
Through the work of Wilridge founder and Vintner Paul Beveridge, Naches Heights was awarded American Viticultural Area (AVA) status by the federal government in 2012 and is one of the most unique AVAs in the nation. In addition to producing outstanding fruit, Wilridge Vineyard is one of the only "Recreational Vineyards" in Washington. Located a short 2-hour drive from Seattle, Wilridge Vineyard, Winery & Distillery makes a perfect day-trip. Stroll the vineyard, picnic on the lawn, hike, houseback ride (hitching posts for up to 20 horses), and mountain bike the nearby trails, or simply sit out on the wrap-around porch of our wine bar -- situated in a beautful 100-year old farmhouse. The vineyard offers a multitude of outdoor activities to enjoy with a Vineyard Map to help you create your own adventure.
Meet Paul Beveridge, Wildridge Vintner and Distiller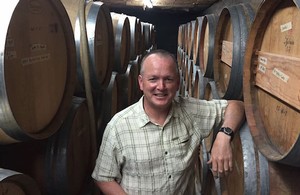 Paul Beveridge has been making Wilridge wines for over thirty years. From the beginning, Paul has focused on wines that reflect the "terroir" of their vineyard sites rather than current fashion or the latest winemaking trends. As such, his wines are more "European" in character than most new world wines. He furthered his European philosophy of letting the grapes and the wines reflect their place of origin by planting his vineyard on Naches Heights near Yakima following Organic and Biodynamic principles.
You know you want to
Sign Up For Our Newsletter
Keep up to date on the latest wine releases, events, and promotions